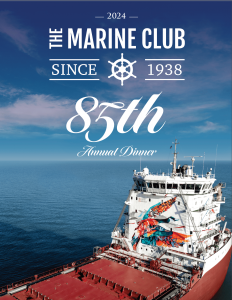 Partner with Us
To: Members of The Marine Club & other Great Lakes/Seaway System Stakeholders
From: Frank Montecalvo, President, The Marine Club
Subject: The Marine Club Annual Dinner 2024 – Magazine Publication
Established in 1938, the Marine Club has provided a long-standing history with tradition and fellowship within the Great Lakes and St. Lawrence Seaway System. The Marine Club remains a vital organization promoting marine career opportunities, highlighting the Great Lakes waterway system, and facilitating comradery within the industry. As such, our Annual Dinner event held downtown Toronto in January each year hosts nearly a thousand people directly connected to maritime trade on the Great Lakes/Seaway system. This highly popular event is one of the most anticipated throughout the year.
We are pleased to announce that Harbour House Publishers, well-known to most of you as the publisher of Great Lakes/Seaway Review magazine, will be publishing the Marine Club's Annual Dinner publication. We value their experience and knowledge of the marine industry and are confident they will produce an excellent special edition commemorating our prestigious event. The high-quality print version of the special edition will be distributed to guests at the annual dinner and available in digital format for sharing on various platforms. Similar to previous years, the publication will include acknowledgement of corporate and individual members, a listing of award recipients, bios and photos of head table guests (and other prominent executives within those respective organizations) in addition to other Marine Club content.
Candi Wynn, Account Manager from Harbour House Publishers, will soon be contacting Marine Club members and other related Great Lakes/Seaway stakeholders to discuss advertising options. The success of this special publication depends largely upon your participation. We would appreciate any assistance you can provide Candi when she contacts you. Candi can be reached at cwynn@harborhouse.com or call 231-582-2814 x 124.
Thank you for your cooperation and assistance in promoting The Marine Club. Our goal remains to continue to showcase the Great Lakes St. Lawrence Seaway System as an efficient and significant transportation mode while also supporting industry through our Good Works program. The Good Works program distributes $50,000-$60,000 annually to marine specific initiatives. Supporting this special edition publication assists us in our endeavours.